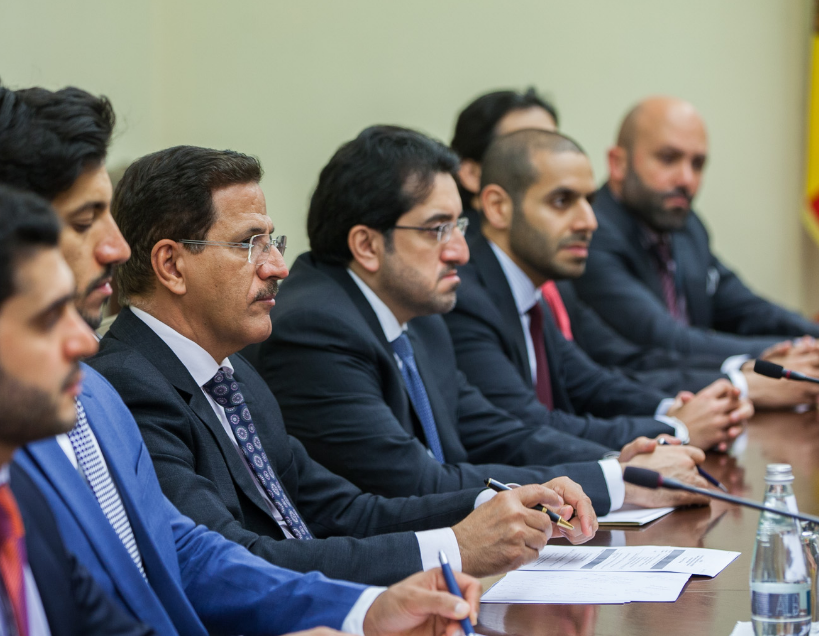 News
Emiratele Arabe Unite, interesate de afaceri în Moldova
Peste 100 de
companii din Republica Moldova
și peste 20 de directori al marilor companii emirateze - administratori al
zonelor economice libere
, fondurilor de investiții, Camerei de Comerț – au participat ieri în lucrările Forului de afaceri moldo-emiratez.
Printre invitați se află ministrul Economiei al Emiratelor Arabe Unite (EAU) Sultan Bin Saeed Al Mansoori, care se întreprinde o vizită în premieră în Republica Moldova. Ministrul Economiei din Republica Moldova, Octavian Calmîc, a menționat că Forul de Afaceri moldo – emiratez are drept scop familiarizarea mediului de afaceri emiratez cu oportunitățile investiționale și de export a Republicii Moldova, promovarea dialogului de afaceri și stabilirea parteneriatelor bilaterale. Republica Moldova, în istoria sa contemporană, nu a avut o vizită de așa un nivel. Acest forum este o bună oportunitate ca aceste parteneriate de afaceri să prindă contur. Având o economie mică, încercăm să diversificăm produsele noastre. Republica Moldova are un șir de avantaje. Pe de o parte construim acel pod de legătură dintre Est și Vest. De ceva timp încercăm să construim un alt pod de legătură dintre Nord spre Vest. Și un prim pas a fost acel Acord de colaborare cu Turcia. Însă și EAU este o prioritate pentru noi. Vrem să vă încurajăm să lansați proiecte și afaceri comune care vor aduce beneficii ambelor țări. Suntem determinați de a efectua în acest an o vizită de lucru în Emiratele Arabe cu oamenii de afaceri din Moldova, pentru a face schimb de experiență, a menționat Calmîc. Totodată, el a precizat că pe agenda de guvernare a Republicii Moldova este liberalizarea regimului de vize dintre țara noastră și EAU. La rândul său, ministrul Economiei al EAU, Sultan Bin Saeed Al Mansoori, a specificat că din delegația oamenilor de afaceri emiratezi sunt cei din sectoarele de investiții și dezvoltare, comerț, transport, industrie, sector agroalimentar, zone economice libere, camere de comerț, sector energetic și industrie. Trebuie să găsim căi de a ne promova țările reciproc atât din punct de vedere economic, cât și turistic, servicii financiare să ne înțelegem și să ne respectăm. Noi avem obiective și scopuri bine determinate de a ne dezvolta economia, infrastructura și alte ramuri. Ar fi o bună oportunitate să colabărăm și cu Republica Moldova pentru a stabili parteneriate pe diverse ramuri, a explicat ministrul Economiei al EAU.





via | www.realitatea.md
The account successfully was created. To confirm the registration, type the confirmation link wich was sent to your e-mail indicated in registration form, valid for up to 30 days.
Adress to us a question
You want to obtain an answer or you will can to suggest as an article necessary for your work process? Sign in on the page, send your question or suggest and obtain the answer from the experts in the shortest time, at your e-mail or published in the compartment "Questions and answers".
Submit the services by phone
Include correct the dates who are requested and in short time you will be contacted by an operator
Feedback
To monitor the status of sent Feedback, initial we recommend to you to do sign in on the page. So, the answer at PP "Monitorul Fiscal FISC.md" at feedback will be save and will be displayed in your personal profile. If the feedback is sent an you aren't authentificated on the page, the message will be sent tot your e-mail.
Dear user
For further improvements, please write a feedback about the quality and availability of the services provided from the site and user interface.