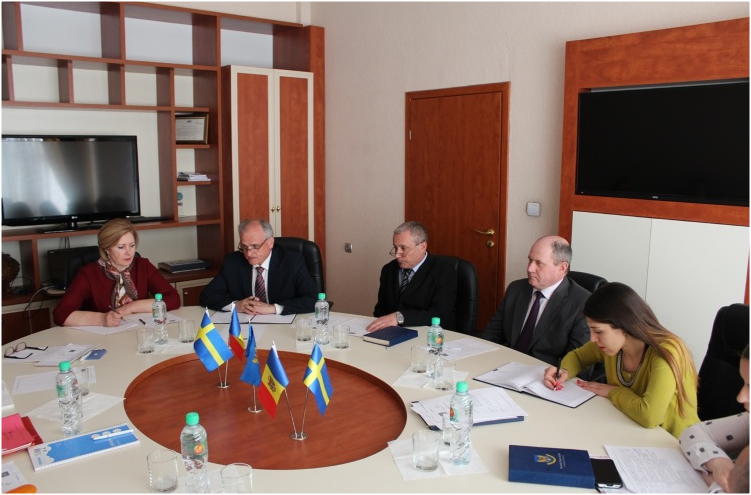 SFS monitor
Proiectul de reformare a Serviciului Fiscal de Stat este un program de importanță strategică pentru viitorul european al Republicii Moldova
Proiectul de reformare a Serviciului Fiscal de Stat este un program de importanță strategică pentru viitorul european al Republicii Moldova, iar suportul colegilor suedezi vine tocmai să fortifice politicile de modernizare europeană a autorității fiscale naționale, a declarat Șeful SFS, Ion Prisăcaru, în cadrul celei de-a 3-a şedinţe a Comitetului de Coordonare a Proiectului de colaborare a SFS cu Agenția Fiscală Suedeză.
În cadrul întrevederii, la care au fost dezbătute rezultatele colaborării de un an și jumătate cu experții Agenției Fiscale Suedeze, Ion Prisăcaru a apreciat înalt suportul colegilor suedezi la eficientizarea şi modernizarea autorităţii fiscale naţionale, fiind menţionat interesul părții moldovenești de a asimila cât mai multe exemple de metode şi tehnici performante din arsenalul fiscaliștilor suedezi. Suntem interesați să progresăm cu pași rapizi, pe care motiv vom depune toate eforturile ca acest Proiect să fie unul de succes, a mai declarat Ion Prisăcaru. În același context, Consilierul Ambasadei Suediei, Henrik Huitfeldt, a menționat buna derulare a Proiectului și colaborarea productivă dintre experții suedezi și angajații Serviciului Fiscal de Stat. La același subiect, reprezentantul Ambasadei Suediei, Coordonator naţional de programe, Andrei Darie, a apreciat eforturile depuse de autoritatea fiscală şi, ținând cont de rezultatele atinse, a enunțat posibilitatea extinderii prevederilor Proiectului. Totodată, dânsul a specificat că va fi acordat și suport pe dimensiunea implementării noii Legi privind Serviciul Fiscal de Stat. De asemenea, Managerul de proiect, Dna Tulli Skold, şi Expertul pe termen lung, Dna Carina Silbo, de la Agenția Fiscală Suedeză, au relevat că proiectul derulează cu succes și au exprimat gratitudine persoanelor implicate, pentru devotamentul, profesionalismul şi interesul manifestate. Prezentă la eveniment, viceministrul Finanțelor, Dna Maria Cărăuș, a remarcat că Proiectul de colaborare este unul binevenit, iar suportul Agenţiei Fiscale Suedeze, Ambasadei Suediei şi Agenţiei Suedeze pentru Cooperare Internaţională și Dezvoltare (SIDA) este unul semnificativ, care contribuie la modernizarea administrării fiscale. Totodată, doamna viceministru a evidențiat faptul că Serviciul Fiscal de Stat are tot suportul din partea Ministerului Finanțelor, în partea ce ține de promovarea reformelor în domeniul fiscal. Notă: În Suedia, datele statistice indică un grad sporit de conformare fiscală voluntară, circa 98 la sută din veniturile la buget reprezentând defalcări benevole. În acelaşi timp, decalajul fiscal reprezintă, per ansamblu, pe ţară, doar 10 %.



via | www.fisc.md
The account successfully was created. To confirm the registration, type the confirmation link wich was sent to your e-mail indicated in registration form, valid for up to 30 days.
Adress to us a question
You want to obtain an answer or you will can to suggest as an article necessary for your work process? Sign in on the page, send your question or suggest and obtain the answer from the experts in the shortest time, at your e-mail or published in the compartment "Questions and answers".
Submit the services by phone
Include correct the dates who are requested and in short time you will be contacted by an operator
Feedback
To monitor the status of sent Feedback, initial we recommend to you to do sign in on the page. So, the answer at PP "Monitorul Fiscal FISC.md" at feedback will be save and will be displayed in your personal profile. If the feedback is sent an you aren't authentificated on the page, the message will be sent tot your e-mail.
Dear user
For further improvements, please write a feedback about the quality and availability of the services provided from the site and user interface.