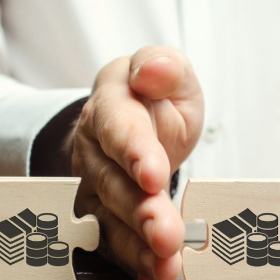 News
Condițiile retragerii asociatului SRL vor fi reglementate
Asociatul societății cu răspundere limitată (SRL) care deține mai puțin de 50% din cuantumul capitalului social se poate retrage din societate oricând, fără consimțământul asociaților.
Grupul de lucru al Comisiei de stat pentru reglementarea activității de întreprinzător va analiza în cadrul ședinței din 16 mai anul curent proiectul modificărilor al Legii nr.135/2007 privind societățile cu răspundere limitată, elaborate de către Ministerul Economiei și Digitalizării, care prevede completarea Legii nr. 135/2017 cu un articol nou (art. 471) ce va reglementa retragerea asociatului SRL.
Astfel, în condițiile aprobării proiectului în redacția propusă, Legea nr. 135/2017 va stabili că dacă statutul societății nu prevede altfel, asociatul care deține 50% și mai mult din cuantumul capitalului social se poate retrage din societate doar cu consimțământul asociaților, exprimat prin hotărâre unanimă.
Asociatul retras va beneficia de valoarea de retragere a părții sale sociale, determinată proporțional în raport cu valoarea activelor nete ale SRL la data depunerii notificării de retragere. Notificarea de retragere se va depune administratorului SRL, care în decurs de 15 zile va elibera asociatului certificatul privind valoarea de retragere, la care urmează a fi anexat calculul respectiv. Totodată, la cererea asociatului, societatea îi va prezenta documentele justificative utilizate la efectuarea calculului.
La rândul său asociatul retras, va depune notificarea, și, după caz, hotărârea adunării asociaților, la organul înregistrării de stat. Asociatul se va considera retras din data radierii lui din Registrul de stat al persoanelor juridice.
Conform proiectului, SRL va achita valoarea de retragere pe parcursul unui an în rate egale, sau în alt mod, convenit cu asociatul retras. Se mai prevede că statutul SRL va putea conține și alte norme referitoare la condițiile de retragere a asociatului, decât cele expuse supra.
Din data înregistrării radierii asociatului partea socială se va considera dobândită de SRL, iar aceasta va fi în drept să o înstrăineze în conformitate cu art.26 din Legea nr. 135/2007.
Noile reglementări care, în opinia autorilor, vor exclude mai multe bariere birocratice, neargumentate de restricție în activitatea desfășurată de către SRL, vor intra în vigoare la expirarea a 2 luni de la data publicării în "MO".
The account successfully was created. To confirm the registration, type the confirmation link wich was sent to your e-mail indicated in registration form, valid for up to 30 days.
Adress to us a question
You want to obtain an answer or you will can to suggest as an article necessary for your work process? Sign in on the page, send your question or suggest and obtain the answer from the experts in the shortest time, at your e-mail or published in the compartment "Questions and answers".
Submit the services by phone
Include correct the dates who are requested and in short time you will be contacted by an operator
Feedback
To monitor the status of sent Feedback, initial we recommend to you to do sign in on the page. So, the answer at PP "Monitorul Fiscal FISC.md" at feedback will be save and will be displayed in your personal profile. If the feedback is sent an you aren't authentificated on the page, the message will be sent tot your e-mail.
Dear user
For further improvements, please write a feedback about the quality and availability of the services provided from the site and user interface.