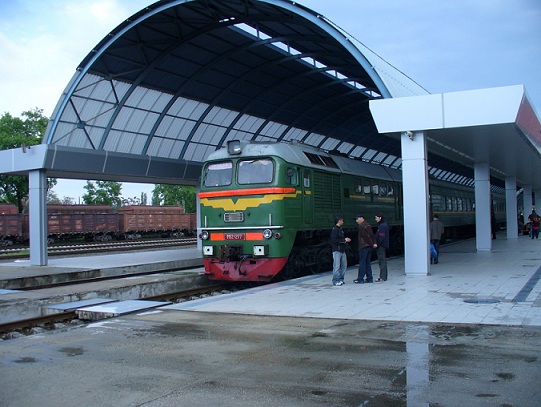 News
CFM va primi 52,5 mil. euro pentru modernizare
Banca Europeană pentru Reconstrucţie şi Dezvoltare (BERD) oferă 52,5 milioane de euro pentru modernizarea căilor ferate ale Moldovei – Acordul de împrumut în acest sens a fost semnat astăzi la Chişinău. Prim-ministrul Iurie Leancă, a spus că modernizarea infrastructurii este o prioritate a Guvernului. În opinia sa sectorul feroviar are nevoie urgentă de restructurare pentru a putea presta servicii de calitate. Sue Barrett, directorul BERD pentru Transport, a comunicat că împrumutul va fi acordat în două tranşe. Prima tranşă va avea o valoare de 25 de milioane de euro, bani care vor fi folosiţi pentru achiziţionarea a zece locomotive noi multifuncţionale şi reabilitarea infrastructurii feroviare. Pirkka Tapiola, şeful Delegaţiei Uniunii Europene în Republica Moldova, a afirmat că UE va co-finanţa procurarea locomotivelor cu un grant investiţional de cinci milioane de euro. Tapiola a spus că BERD finanţează şi alte proiecte în domeniul transportului, inclusiv cel de completare a parcului de troleibuse din municipiul Chişinău şi Bălţi. De asemenea, cu asistenţa BERD va fi îmbunătăţit managementul energetic al companiei pentru a reduce consumul energiei şi vor fi elaborate planurile de acţiuni pentru a restructura sectorul feroviar şi consolida capacităţile investiţionale. Proiectul de modernizare a căilor ferate a Moldovei are o valoare totală de 116,75 milioane de euro. Pe lîngă împrumutul BERD de 52,5 milioane de euro, Banca Europeană de Investiţii va susţine proiectul cu un împrumut similar. Proiectul va mai beneficia de finanţare nerambursabilă în valoare de 1,75 milioane de euro din fondurile proprii ale BERD, din partea Iniţiativei Centrale Europene şi a Guvernului Cehiei. Directorul interimar al întreprinderii de stat CFM Sergiu Tomşa a precizyat într-un interviu, că împrumutul acordat de BERD este în condiţii preferenţiale, pe un termen de 15 ani, graţie 3 ani şi o dobîndă de 2% anual. Proiectul de modernizare a CFM va fi implementat pînă la finele anului 2017 şi face parte din Planul investiţional al ÎS CFM pe 10 ani. "Sperăm că după implementarea proiectului finanţat de BERD şi BEI (acordul de finanţare cu BEI se află în proces de lucru) şi partenerii acestora CFM să poată concura pe piaţă cu alte întreprinderi similare din regiune şi ţările europene," – a spus Tomşa. BERD este cel mai mare investitor instituţional în RM cu investiţii de 900 mil. euro în peste 100 de proiecte.
The account successfully was created. To confirm the registration, type the confirmation link wich was sent to your e-mail indicated in registration form, valid for up to 30 days.
Adress to us a question
You want to obtain an answer or you will can to suggest as an article necessary for your work process? Sign in on the page, send your question or suggest and obtain the answer from the experts in the shortest time, at your e-mail or published in the compartment "Questions and answers".
Submit the services by phone
Include correct the dates who are requested and in short time you will be contacted by an operator
Feedback
To monitor the status of sent Feedback, initial we recommend to you to do sign in on the page. So, the answer at PP "Monitorul Fiscal FISC.md" at feedback will be save and will be displayed in your personal profile. If the feedback is sent an you aren't authentificated on the page, the message will be sent tot your e-mail.
Dear user
For further improvements, please write a feedback about the quality and availability of the services provided from the site and user interface.