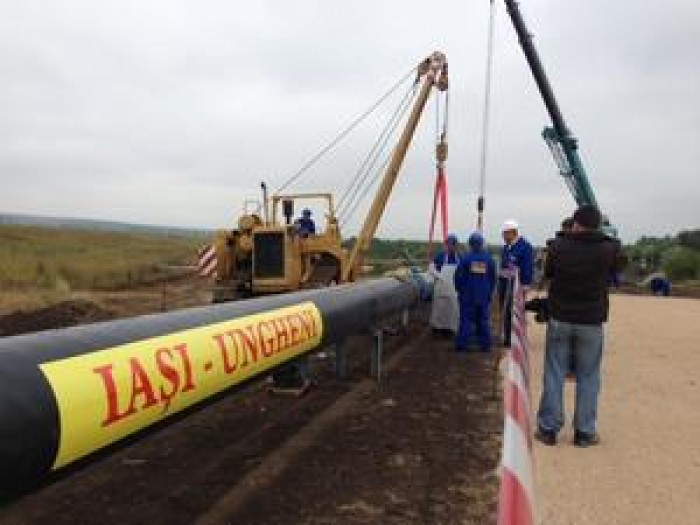 News
Compania care va transporta gaze prin conducta Iaşi - Ungheni a primit licenţă
Agenţia Naţională pentru Reglementare în Energetică (ANRE) a decis astăzi să elibereze întreprinderii de stat Vestmoldtransgaz licență pentru transportul gazelor naturale prin conducta Iaşi - Ungheni, iar, în perspectivă, și pînă în Chișinău. Licența a fost acordată pe un termen de 25 de ani, potrivit hotărîrii Consiliului de Administrație al ANRE, informează Moldpres.
Vestmoldtransgaz este cea de-a doua întreprindere din Republica Moldova care deține licență pentru transportul gazelor naturale. Întreprinderea de stat Vestmoldtransgaz a fost creată în temeiul unei hotărîri de Guvern în iunie 2014. Ea are sarcina de a asigura întreținerea segmentului de gazoduct Iași – Chișinău de pe teritoriul R. Moldova și a stației de măsurare a gazelor, precum și de a efectua la necesitate reparația capitală a acestor active. Potrivit acordului semnat pe 22 decembrie anul trecut cu OMV Petrom Gas, Republica Moldova va importa gaz din România la un preţ de 1010 lei româneşti pentru o mie de metri cubi, adică circa 277 de dolari. Preţul este cu 55 de dolari mai mic decît cel stabilit de Gazprom pentru 2015. "Este un nou început pentru sursele alternative de gaz pentru R. Moldova. Contractul intră în vigoare de la 1 ianuarie 2015. Cantitățile inițiale vor fi mici pentru a verifica și testa sistemul, iar în fiecare lună se va putea face comanda pentru luna următoare prin semnarea unor anexe. În 2015 vom începe construcția conductei de gaz de la Ungheni spre Chișinău", a declarat ministrul în exerciţiu al Economiei, Andrian Candu, după semnarea contractului. Lipsa licenţei de activitate pentru compania Vestmoldtransgaz a reprezentat unul din motivele întîrzierii începerii livrării de gaz prin conducta Iaşi – Ungheni, anunţată pentru 1 ianuarie 2015. Gazoductul Iași - Ungheni a fost lansat oficial la 27 august, de Ziua Republicii. Costul total al proiectului este de 26 de milioane de euro, dintre care șapte milioane reprezintă un grant din partea Uniunii Europene. Gazoductul, cu lungimea totală de 43,2 kilometri, are o capacitate de 1,5 miliarde de metri cubi de gaze, dintre care iniţial din România va fi livrat un volum de pînă la 50 de milioane de metri cubi pe an. La începutul lunii decembrie într-o şedinţă la Agenţia Naţională pentru Reglementare în Energetică a fost discutat studiul de pre-fezabilitate a conductei Ungheni - Chişinău. Costul construcției gazoductului Ungheni - Chișinău este estimat la 70 de milioane de euro. BERD va finanţa elaborarea studiului de fezabilitate, iar consultanţa va fi oferită de compania Fichtener din Germania.

via moldpres.md
The account successfully was created. To confirm the registration, type the confirmation link wich was sent to your e-mail indicated in registration form, valid for up to 30 days.
Adress to us a question
You want to obtain an answer or you will can to suggest as an article necessary for your work process? Sign in on the page, send your question or suggest and obtain the answer from the experts in the shortest time, at your e-mail or published in the compartment "Questions and answers".
Submit the services by phone
Include correct the dates who are requested and in short time you will be contacted by an operator
Feedback
To monitor the status of sent Feedback, initial we recommend to you to do sign in on the page. So, the answer at PP "Monitorul Fiscal FISC.md" at feedback will be save and will be displayed in your personal profile. If the feedback is sent an you aren't authentificated on the page, the message will be sent tot your e-mail.
Dear user
For further improvements, please write a feedback about the quality and availability of the services provided from the site and user interface.