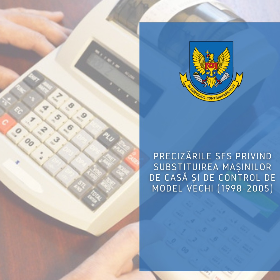 SFS monitor
Precizările SFS privind substituirea mașinilor de casă și de control de model vechi (1998-2005)
Cu referire la informația apărută în spațiul public privind problemele înregistrate de unii agenți economici din domeniul comercializării produselor petroliere cu amănuntul, aferent echipamentelor de casă și de control, comunicăm următoarele.
Pe 13 iulie 2022, Comisia interdepartamentală pentru echipamente de casă și de control a decis excluderea din Registrul unic a modelele de mașini de casă și de control/imprimante fiscale incluse în perioada anilor 1998-2005, cu posibilitatea utilizării acestora până la data de 31 ianuarie 2023.
Excluderea modelelor din Registrul Unic constituie o activitate obișnuită determinată de uzura morală și fizică a echipamentelor. Astfel, la ziua de azi, pe piață urmează să funcționeze modele ECC nu mai vechi de anul 2005 (o vechime ce nu depășește 18 ani).
Serviciul Fiscal de Stat a informat prin toate mijloacele de comunicare disponibile agenții economici vizați și a oferit consultațiile necesare, creând premise pentru conformarea contribuabililor la noile prevederi.
Despre Decizia menționată SFS a reiterat prin comunicatele aferente publicate la data de 19.07.2022, 15.08.2022, 03.11.2022, 07.11.2022, 07.11.2022.
Prin Decizia dată au fost vizați 4 397 de agenți economici cu diferite genuri de activitate care au deținut 7 129 de ECC.
Referitor la genul de activitate comerțul produselor petroliere cu amănuntul care încă nu au migrat aparatele excluse din Registrul Unic, prezentăm datele statistice corespunzătoare:
88 agenți economici vizați;
240 mașini de casă și de control/imprimante fiscale care necesită substituire;
5 modele de MCC/IF vizate (SIGMA 2000B1F; DATECS MP-500PP; MCC PP TIS; NCR OCTANE 2000PP-POS 7456; DATECS ND -777.01).
Numărul de MCC și agenți economici obligați să substituie MCC de model vechi (1998-2005)

Model MCC exclus din Registrul Unic

Total MCC

Număr agenți economici

1 mcc

2 mcc

3 mcc

4 mcc

>4 mcc

70,SIGMA-2000B1F

16

14

2

71,DATECS MP-500 PP

218

44

6

6

8

8

72,MCC PP TIS

4

4

74,NCR OCTANE 2000 PP-POS 7456

78,DATECS ND-777.01

2

1
În vederea conformării la noile prevederi, agenții economici vizați au următoarele opțiuni:
posibilitatea de reînregistrare a MCC excluse cu altele deținute la alte unități structurale deținute (subdiviziuni);
înregistrarea ECC de tip nou de model ISFISCALSERVICE*, RTI 7000 P, DATECS FP-700MX1 și TREMOL FP15PP.
* Actualmente pentru ECC modular (ISFISCALSERVICE) nu sunt stabilite reguli de verificare metrologică.
Informația despre modelele echipamentelor de casă și de control incluse în Registrul unic al echipamentelor de casă și de control, este disponibilă pe portalul mev.sfs.md și pe portalul guvernamental al datelor deschise www.date.gov.md.
În context, îndemnăm agenții economici să se conformeze noilor prevederi cu repectarea cadrului normativ aferent.
The account successfully was created. To confirm the registration, type the confirmation link wich was sent to your e-mail indicated in registration form, valid for up to 30 days.
Adress to us a question
You want to obtain an answer or you will can to suggest as an article necessary for your work process? Sign in on the page, send your question or suggest and obtain the answer from the experts in the shortest time, at your e-mail or published in the compartment "Questions and answers".
Submit the services by phone
Include correct the dates who are requested and in short time you will be contacted by an operator
Feedback
To monitor the status of sent Feedback, initial we recommend to you to do sign in on the page. So, the answer at PP "Monitorul Fiscal FISC.md" at feedback will be save and will be displayed in your personal profile. If the feedback is sent an you aren't authentificated on the page, the message will be sent tot your e-mail.
Dear user
For further improvements, please write a feedback about the quality and availability of the services provided from the site and user interface.