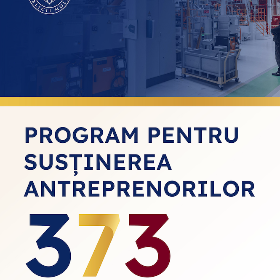 News
Programul 373: un nou program de stimulare a investițiilor inovaționale
Pentru a sprijini dezvoltarea economiei naționale este necesară o abordare coordonată și concentrată asupra investițiilor în inovații și afaceri. În acest sens, Ministerul Dezvoltării Economice și Digitalizării a elaborat și propune pentru consultări publice proiectul hotărârii Guvernului pentru aprobarea Programului de stimulare a investițiilor inovaționale "373".
Acest program are drept scop asigurarea cu finanțări accesibile a întreprinderilor mici și mijlocii care implementează proiecte investiționale inovative, prin acordarea creditelor investiționale de către băncile comerciale din Republica Moldova cu compensarea parțială a ratei dobânzii de către stat, prin intermediul Fondului pentru antreprenoriat și creștere economică (FACEM) și garantarea, după caz, a creditelor cu garanții financiare prin intermediul Fondului de Garantare a Creditelor pentru ÎMM (FGC).
Programul compensează creditele investiționale eligibile cu o maturitate de cel puțin 3 ani, oferind compensare în mărimea necesară pentru ca rata dobânzii efective aplicată de băncile licentiate conform contractului de credit și achitată de către beneficiar să nu depășească:
7% anual pentru creditele acordate în monedă națională și 3% anual pentru creditele acordate în valută (USD sau EUR).
Pentru a deveni beneficiar a Programului, solicitanții trebuie să întrunească cumulativ o serie de criterii, printre care: să fie înregistrat în Registrul de stat al unităților de drept din RM și să nu fie în proces de insolvabilitate, reorganizare sau lichidare, să nu dețină beneficiari efectivi înregistrați și/sau rezidenți ai jurisdicțiilor care nu implementează standardele internaționale de transparență stabilite conform actelor normative ale autorității de supraveghere, precum și ale Serviciului Prevenirea și Combaterea Spălării Banilor, să nu aibă datorii restante față de bugetul public național la data acordării creditului, să dețină un plan de afaceri și proiecții financiare care să demonstreze fezabilitatea și impactul potențial al proiectului investițional etc.
Sunt eligibile spre compensare conform Programului dobânzile aferente creditelor investiționale, cu excepția celor utilizate pentru finanțarea:
costurilor de bunuri și servicii ori cota-parte a acestora acoperite de alte programe/proiecte de asistență și/ sau subvenții de stat, inclusiv contribuția proprie; pierderilor la schimbul valutar;
recreditarea și finanțarea costurilor de leasing, credit, inclusiv dobânzile și comisioanele aferente;
costurilor de arendă sau locațiune a spațiilor/oficiilor/terenurilor;
activelor circulante, materialelor, consumabilelor, cheltuielilor administrative; cheltuielilor de remunerare a personalului;
tehnicii agricole, care se încadrează conform criteriilor în programele de finanțare dedicate agriculturii și implementate de AIPA, ADMA, Livada Moldovei, IFAD;
autoturismelor destinate transportului de persoane sau a imobilelor cu destinație locativă.
Valoarea maximă a creditului ce poate fi acordat de către băncile participante la Program unui beneficiar eligibil nu poate depăși 15 mil. lei. Programul va fi implementat de către Organizația pentru Dezvoltarea Antreprenoriatului (ODA).
The account successfully was created. To confirm the registration, type the confirmation link wich was sent to your e-mail indicated in registration form, valid for up to 30 days.
Adress to us a question
You want to obtain an answer or you will can to suggest as an article necessary for your work process? Sign in on the page, send your question or suggest and obtain the answer from the experts in the shortest time, at your e-mail or published in the compartment "Questions and answers".
Submit the services by phone
Include correct the dates who are requested and in short time you will be contacted by an operator
Feedback
To monitor the status of sent Feedback, initial we recommend to you to do sign in on the page. So, the answer at PP "Monitorul Fiscal FISC.md" at feedback will be save and will be displayed in your personal profile. If the feedback is sent an you aren't authentificated on the page, the message will be sent tot your e-mail.
Dear user
For further improvements, please write a feedback about the quality and availability of the services provided from the site and user interface.