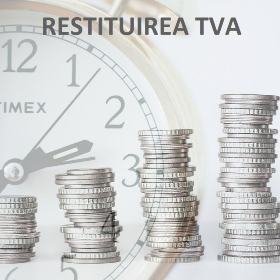 News
Regulamentul privind restituirea TVA: simplificarea procedurii
Agenții economici, la solicitarea restituirii sumei TVA aferente prestării serviciilor prin intermediul mijloacelor electronice, nu vor mai fi obligați să prezinte documentele confirmative cu aplicarea semnăturii electronice sau olografe a beneficiarului.
În cadrul ședinței de astăzi, 25 decembrie 2022, Cabinetul de miniștri a aprobat proiectul hotărârii de Guvern, prin care au fost introduse modificări în cadrul normativ secundar în vederea aducerii acestuia în concordanță cu prevederile Legii nr. 356/2022 pentru modificarea unor acte normative (politica bugetar-fiscală pentru anul curent).
Astfel, modificarea aprobată în sbpct. 6) al pct.32 din Regulamentul privind restituirea taxei pe valoarea adăugată, aprobat prin HG nr. 93/2013, va simplifica procedura de beneficiere a restituirii TVA pentru agenții economici prestatori ai serviciilor prin intermediul mijloacelor electronice, cu prezentarea doar a documentelor confirmative privind primirea plății pentru serviciile respective sau informația privind mijloacele bănești încasate prin intermediul cardurilor sistemelor internaționale de plăți, prezentate de către bancă.
La momentul de față, în cadrul procesului de solicitare a restituirii TVA, mai mulți agenți economici sunt în imposibilitate de a prezenta documentele confirmative semnate electronic sau olograf, în contextul în care beneficiarii sunt agenți economici nerezidenți, iar comunicarea este strict limitată prin intermediul mijloacelor electronice.
Documentul aprobat de Guvern prevede un șir de modificări și completări, care vor intra în vigoare la 12 februarie 2023, la Regulamentul privind modul de procurare şi aplicare a timbrelor de acciză/timbrelor de consum pe articolele din tutun, aprobat prin HG nr. 1427/2007. Astfel, pct. 24 din Regulament este completat cu un alineat care stabilește că, pentru cartușele și rezervele pentru țigaretele electronice, inclusiv țigaretele electronice de unică folosință, preparatele destinate utilizării în cartușele și rezervele pentru țigaretele electronice de la poziția tarifară 2404, înlocuitorii din tutun (amestecuri fără tutun pe baza frunzei de ceai) de la pozițiile tarifare 240399900 și 2404, timbrele de acciză/timbrele de consum se aplică pe ambalajul produsului astfel, încât deschiderea ambalajului să asigure deteriorarea timbrului aplicat.
Odată cu publicarea hotărârii aprobate în "MO", vor fi abrogate HG nr. 884/2003 cu privire la crearea cadrului instituţional pentru implementarea şi desfăşurarea inspecției înainte de expediţie a mărfurilor importate, precum și HG nr. 994/2003 despre desemnarea companiei pentru prestarea serviciilor de inspecţie înainte de expediţie.
The account successfully was created. To confirm the registration, type the confirmation link wich was sent to your e-mail indicated in registration form, valid for up to 30 days.
Adress to us a question
You want to obtain an answer or you will can to suggest as an article necessary for your work process? Sign in on the page, send your question or suggest and obtain the answer from the experts in the shortest time, at your e-mail or published in the compartment "Questions and answers".
Submit the services by phone
Include correct the dates who are requested and in short time you will be contacted by an operator
Feedback
To monitor the status of sent Feedback, initial we recommend to you to do sign in on the page. So, the answer at PP "Monitorul Fiscal FISC.md" at feedback will be save and will be displayed in your personal profile. If the feedback is sent an you aren't authentificated on the page, the message will be sent tot your e-mail.
Dear user
For further improvements, please write a feedback about the quality and availability of the services provided from the site and user interface.