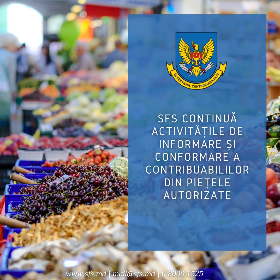 SFS monitor
SFS continuă informarea contribuabililor din piețele autorizate
Serviciul Fiscal de Stat monitorizează în permanență activitatea agenților economici pe bază de risc și întreprinde măsuri de informare și conformare a contribuabililor, scopul fiind conformarea voluntară a acestora la prevederile legislației în vigoare.
În acest sens, în perioada aprilie-prezent, SFS a instituit un post fiscal la piața agricolă din str. Calea Basarabiei, mun. Chișinău, în scopul monitorizării activității contribuabililor ce desfășoară activitate pe teritoriul administrat de aceasta.
În cadrul activității postului fiscal au fost stabilite un șir de riscuri sporite pentru administrarea fiscală, și anume:
neînregistrarea activității de întreprinzător;
tăinuirea veniturilor din vânzările real efectuate;
practicarea achitării "salariului în plic" și utilizarea muncii ne(sub)declarate;
operațiuni economice de proporții cu persoane fizice, persoane fizice ce desfășoară activitate independentă și deținători ai patentei de întreprinzător;
operațiuni economice de proporții cu persoane fizice cetățeni care practică activitate ilicită.
În scopul prevenirii posibilelor riscuri de încălcare a legislației fiscale în vigoare în domeniul comerțului, au fost distribuite 105 pliante informative, prin care contribuabilii au fost îndemnați să dețină documente necesare privind înregistrarea activității de comerț și documente confirmative privind originea mărfii comercializate și transportate, să elibereze facturi fiscale la efectuarea tranzacțiilor de vânzare și să utilizeze echipamentele de casă și de control.
De asemenea, de comun cu administrația pieței au fost petrecute ședințe cu contribuabilii persoane fizice și juridice, privind conformarea voluntară la prevederile legislației în vigoare.
Urmare a analizei agenților economici cărora li s-au distribuit pliante, în unele cazuri s-a stabilit că salariul mediu raportat de agenții economici la situația din trimestrul IV al anului 2022, pentru ultimele 3 luni este de o valoare inferioară comparativă cu salariul mediu pe ramura economiei la care se atribuie întreprinderea. În acest sens au fost înmânate 82 scrisori de conformare voluntară la calcularea, declararea și achitarea integrală a plăților salariale.
Ca rezultat, până în prezent au fost încheiate 37 contracte de locațiune noi (în scopul desfășurării activității de întreprinzător), precum și înregistrate – 8 persoane cu activități independente, 4 agenți economici - persoane juridice, 10 subdiviziuni, 21 echipamente de casă și control și 2 agenți economici în calitate de subiecți ai impunerii cu TVA.
Totodată, în luna aprilie au fost inițiate acțiuni de control fiscal prin metoda de verificare operativă la contribuabilii ce desfășoară activitate ilicită pe teritoriul pieței, fiind constatate și sancționate 10 persoane fizice ce practică activitate ilegală de întreprinzător.
The account successfully was created. To confirm the registration, type the confirmation link wich was sent to your e-mail indicated in registration form, valid for up to 30 days.
Adress to us a question
You want to obtain an answer or you will can to suggest as an article necessary for your work process? Sign in on the page, send your question or suggest and obtain the answer from the experts in the shortest time, at your e-mail or published in the compartment "Questions and answers".
Submit the services by phone
Include correct the dates who are requested and in short time you will be contacted by an operator
Feedback
To monitor the status of sent Feedback, initial we recommend to you to do sign in on the page. So, the answer at PP "Monitorul Fiscal FISC.md" at feedback will be save and will be displayed in your personal profile. If the feedback is sent an you aren't authentificated on the page, the message will be sent tot your e-mail.
Dear user
For further improvements, please write a feedback about the quality and availability of the services provided from the site and user interface.