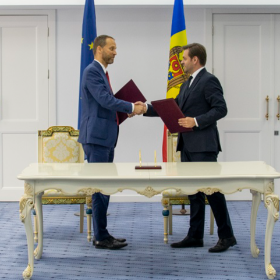 News
UE pentru IMM-uri: grant oferit pentru programele implementate de ODA
Organizația pentru Dezvoltarea Antreprenoriatului (ODA) va beneficia de 8 mil. euro din parte Uniunii Europene, în cadrul proiectului "UE pentru IMM-uri", pentru cofinanțarea a 7 programe de suport al antreprenoritatului.

Contractul de grant a fost semnat astăzi, 24 mai curent, în cadrul unei conferințe de presă, de către Ambasadorul UE în Republica Moldova, Janis Mazeiks și directorul executiv ODA, Dumitru Pîntea.

Obiectivul general al proiectului "UE pentru IMM-uri" este de a contribui la o dezvoltare economică rezilientă, durabilă și favorabilă a antreprenoriatului autohton și de a sprijini tranziția ecologică în Republica Moldova.

În cadrul conferinței, ministrul Dezvoltării Economice și Digitalizării, Dumitru Alaiba, a menționat că această finanțare va contribui la îmbunătățirea climatului investițional, integrarea mai ușoară a cetățenilor pe piața muncii și crearea unui mediu favorabil pentru IMM-uri.

La rândul său, directorul ODA, Dumitru Pîntea, a făcut o scurtă prezentare a rezultatelor așteptate în urma sprijinului european pentru antreprenoriatului autohton. Astfel, rezultatele preconizate ale proiectului "UE pentru IMM-uri" vizează suportul a circa 300 de companii în eforturile de a-și crea, dezvolta, extinde sau internaționaliza afacerile, dintre care cel puțin 50% vor putea profita de noile oportunități în sectoare cu potential ridicat de creștere, iar 80% vor acoperi zonele rurale.

Astfel, proiectul "UE pentru IMM-uri" de susținere financiară în valoare de 8 mil. euro va suplimenta bugetul de stat a 7 programe de finanțare nerambursabilă, acestea fiind: PARE 1+2; Start pentru Tineri; Programul de Ecologizare a IMM-urilor; Programl de Transformare Digitală; Programul de Retehnologizare și eficiență energetică; Programul de Susținere a Antreprenoriatului Feminin și Programul de Turism Rural.

În același timp, beneficiarii fondurilor europene nerambursabile vor avea acces la serviciile de consultanță necesae, educație antreprenorială și mentorat.
Proiectul de asistență europeană va fi implementat de ODA în perioada 2023-2026.
The account successfully was created. To confirm the registration, type the confirmation link wich was sent to your e-mail indicated in registration form, valid for up to 30 days.
Adress to us a question
You want to obtain an answer or you will can to suggest as an article necessary for your work process? Sign in on the page, send your question or suggest and obtain the answer from the experts in the shortest time, at your e-mail or published in the compartment "Questions and answers".
Submit the services by phone
Include correct the dates who are requested and in short time you will be contacted by an operator
Feedback
To monitor the status of sent Feedback, initial we recommend to you to do sign in on the page. So, the answer at PP "Monitorul Fiscal FISC.md" at feedback will be save and will be displayed in your personal profile. If the feedback is sent an you aren't authentificated on the page, the message will be sent tot your e-mail.
Dear user
For further improvements, please write a feedback about the quality and availability of the services provided from the site and user interface.